Inspiring Indochina
Booking Dates
04/02/2023 through 03/05/2024
Travel Dates
04/02/2023 through 03/08/2024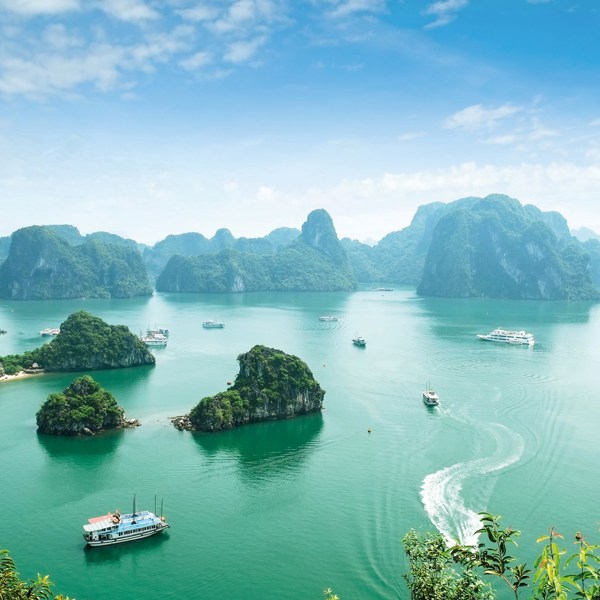 Inspiring Indochina
Be inspired across Cambodia, Vietnam and Laos during this 16-day guided tour. Take in the spectacular sight of Siem Reap's 'Phare, the Cambodian Circus,' a theatre, music, dance, and acrobatics performance by the region's youth. Explore Angkor Archaeological Park and watch the sun set over the ancient Angkor Wat. See the glittering skyscrapers of Ho Chi Minh from a speedboat. Travel to Ha Long Bay, through glistening emerald water as you step aboard a deluxe junk for a memorable overnight cruise. In Hue, enjoy a VIP visit to the Imperial Citadel; open just for you, you'll have the royal court and its gardens all to yourself. Learn about Hanoi's signature street food dishes during a guided tour, then indulge in a feast of crab spring rolls, beef noodle soup, and com cake. Ascend to the top of Mount Phousi in Luang Prabang for a panoramic view of the city below.


Dining Summary
9 Dinner (D)
15 Breakfast (B)
5 Lunch (L)
1 Lunch with Wine (L)
Choice Highlights
Choose between two carefully selected activities
Ho Chi Minh City: Meander through the streets of Ho Chi Minh and hear more about the local street-side café culture, which sprung up when many French lived in the country. Discover the art of making the perfect cup of Vietnamese coffee before trying one.
Ho Chi Minh City: Continue with your exploration about the troubled past of the country at the War Remnants Museum.
Choose between two carefully selected activities
Hue: Meet the headmaster of the Vietnamese Royal Martial Arts Academy and hear about the rigours of training for each martial art. Afterwards, watch at a live performance by the martial artists, admirably demonstrating their skill and discipline.
Hue: Take a boat ride to the private museum of Tran Dihn Son, whose great-grandfather was a high ranking mandarin during the Nguyen Dynasty and see the vast collection of rare antiquities collected by him and his ancestors.
Additional Included Highlights
: You will be escorted by one of our fine Travel Concierges, handpicked to serve as your expert guide, consummate organiser, and friend overseas.
: Personal radio headsets give you the freedom to wander during visits to famous highlights, without missing any of your Local Expert's fascinating commentary, available on departures with 15 or more guests.
: At every hotel, you'll be treated to seamless baggage handling, with prompt delivery inside your room.
: Hotel and restaurant tips are included – you'll never have to worry about how much to give, nor search for foreign currency. We also include all taxes and porterage charges at hotels.
: Stay connected with friends and family with our complimentary coach and hotel Wi-Fi (where available, does not apply to Halong Bay Cruise).
: Complimentary, private airport transfers are included on start and end dates, when flights are included within the itinerary and when additional accommodation has been booked through Luxury Gold. Guests will be transferred with fellow Luxury Gold Travellers that arrive on the same flight.
Exceptional Dining
Krong Siem Reap: Join your Travel Concierge and fellow travellers for your Welcome Dinner at Mahob, set in a traditional Khmer wooden house. Enjoy tasty delicacies created from local ingredients as you immerse yourself in Khmer culture and get to know Siem Reap.
Ho Chi Minh City: Admire the marvellous views from a lively rooftop restaurant at your Welcome Dinner in Saigon. Get to know your Travel Concierge and fellow guests as you dine on local delicacies in a sophisticated setting, with the lights twinkling across the city.
Mekong River Delta: Pause for lunch at the enchanting Mango Home, a thatched restaurant located on the Mekong. Savour delicacies enjoyed in the delta, including noodle soup, grilled fish, and giant prawns fresh from the river, as you enjoy views of the lush countryside.
Hue: Arrive at the home of celebrated painter and singer, Camille Huyen, for a memorable meal and private concert. Stroll around the traditional home she shares with her husband and hear about their fascinating lives and the dream that brought them home.
Hoi An: Dine out with Your Choice this evening. Choose from one of three hand-selected restaurants, known to our local foodies, each specialising in different cuisine from traditional to modern Vietnamese, or a fusion of east and west to tantalise your taste buds.
Hoi An: Visit the beautiful Cam Thanh Village with its dense coconut jungles that were once a shelter for local people and soldiers during the Vietnam War, but today the village is an important supplier of seafood, vegetables and rice to the region. Step into a traditional bamboo-basket boat and glide across the water to the Thanh Dong village where you learn from the villagers how they cultivate and harvest vegetables according to local customs. Continue your voyage through a peaceful water coconut forest to a riverside restaurant overlooking the rice fields. Enjoy and participate in a hands-on cooking class alongside a local chef. Savour your creations for your Highlight Lunch.
Hanoi: Join a local foodie in the Old Quarter to explore the street food culture of Hanoi. Dine as the locals do, on delights such as steaming pho (a beef noodle soup), rice paper rolls and crab spring rolls.
Luang Prabang: Join your fellow travellers for a family style lunch that gives back to the community. Kai Phaen restaurant reinvests all profits back into their trainees and supporting social programs, so you are helping give them a brighter, more secure future.
Journey Highlights
Angkor Wat: Meet a renowned archaeologist to explore the sprawling Angkor Archaeological Park, the largest religious complex on earth. See the signi…

| Day | Description | View All |
| --- | --- | --- |
| Day 1 | Arrive Siem Reap. | Details |
| Day 2 | Angkor Wat in Style. | Details |
| Day 3 | Dynamic Ho Chi Minh City. | Details |
| Day 4 | Marvels of Saigon. | Details |
| Day 5 | Cruise the Mekong Delta. | Details |
| Day 6 | Royal Refinement in Hue. Relaxed Start | Details |
| Day 7 | Highlights of Hue. | Details |
| Day 8 | Romantic Hoi An. | Details |
| Day 9 | The locals in Hoi An. Relaxed Start | Details |
| Day 10 | Hanoi street-food tasting tour. | Details |
| Day 11 | Cruise along Ha Long Bay. | Details |
| Day 12 | Ha Long to Hanoi. Relaxed Start | Details |
| Day 13 | The Temple of Literature. Relaxed Start | Details |
| Day 14 | Welcome to Laos. | Details |
| Day 15 | Luang Prabang and Sunset Cruise. | Details |
| Day 16 | Depart Luang Prabang | Details |